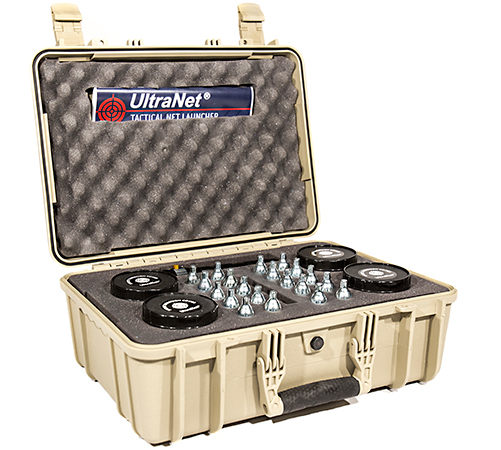 Netgun.com is owned and operated by Wildlife Capture Services, LLC, a professional wildlife capture company that has been outfitting the wildlife profession with quality net guns and animal capture products since 2000.
From big game research to drone capture to nuisance animal control, we offer professional quality animal capture products including CO2 powered net gun kits for a variety of applications. NetGuns created by Wildlife Capture Services, LLC are proven to work on a broad variety of wild and domestic-feral species. We have designed and tested each product to perform to our exceedingly-high expectations under the toughest field conditions.
Be assured that quality is the first priority in each of our products. When working in harsh field conditions, capturing wary animals, there is no room for compromise. Experienced trappers and law enforcement officers know that you have to spend the time and money up front, or it will cost you more later.
UltraNet® Net Gun Kits
Specifications
Length: 311mm (12 1/4"L X 3 1/2"W)
Weight (loaded): 1.36kg (3lbs)
Net Speed: 15 mps (50fps)
Optimum Target Range: 3-9 meters (12-30 ft.)
Power: CO2, 16 gram unthreaded
Net Material: Dyneema or High Performance Polyethylene (HPPE)
Net Sizes: 3 sizes available, see chart below
Kit Includes: one UltraNet handle, pre-loaded nets, 5 CO2 per head, Instruction manual, waterproof case (case colors may vary)
Propelled by compressed CO2, the UltraNet casts a square Dyneema net over 15 mps (50 fps), carried by four rubber-padded corner-weights a horizontal distance of over 10 meters (30 feet) to entangle and stop a target.
The UltraNet is being used worldwide by researchers, rescue groups, animal control officers, UAV operators, police and property owners to safely and humanely stop and restrain elusive targets.
UltraNet® is a registered trade mark. Beware of cheap imitations!