UltraNet-HD
00022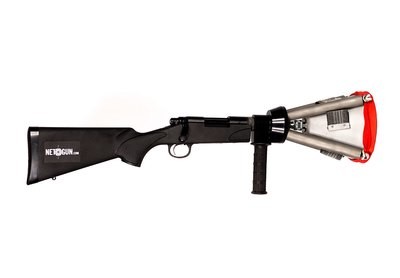 UltraNet-HD® - Large Animal Net-Gun
Portable Power.
.308 caliber Hand Held Net Gun
Heavy-Duty for years of repeated use
Bolt-action, Remington® 700
3 Models: Fixed, QD Canister and QD Barrel/canister
Each model is available in Full-Length-Stock or Double-Pistol-Grip
Net & Mesh Sizes to Cover Any Target
Nylon & Dyneema Nets
Quick-Detach Options for fast follow-up shots
Blanks sold separately
3 Year Full Warranty
Effect range will vary with net size, ranging from 20-30 feet. We will provide the proper net for your application. The proper net considers overall net size, mesh size and thread size. There is no perfect size for everything, but there is a perfect net for every target. We have standard net configurations for common uses and we can build specialty nets for unique situations.

We have nylon and dyneema nets to catch most any target. Net sizes typically range from 10'x10'-16'x16' ft. sq. Mesh sizes vary from 1-12 inches.

Please specify what size net you need, or tell us what you will be catching.

The recoil is moderate to heavy depending on the load/application. These Net-Guns are modified to prevent the loading of a normal, bulleted cartridge. Therefore, they are not classified as firearms by the United States Department of Alcohol, Tobacco and Firearms.

Please allow 4-6 weeks delivery.


This video is posted on youtube.com for ease of viewing.
Links to other videos are in no way associated with NETGUN.com
Full Length Stock (0)
Double Pistol Grip (0)
Fixed Canister Model (0)
Quick Detach Canister (249)
Quick Detach Barrel & Canister (1749)
Blank Power Loads: Box of 50 (149)
Extra Net Nylon with Weights (499)
Extra Net Dyneema with Weights (799)
Extra Quick Detach Canister (199)
Extra Quick Detach Barrel & Canister (999)
$50 Flat Rate US Shipping (0)
International Shipping - Contact Us for Quote (0)